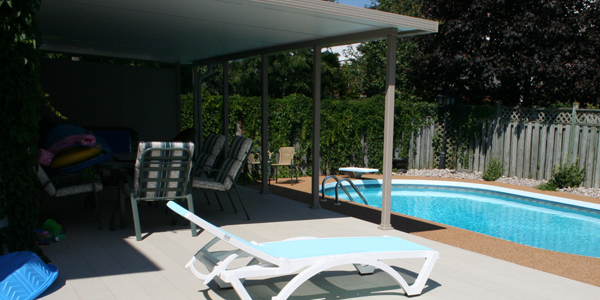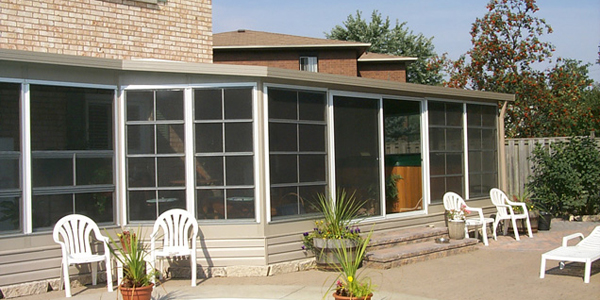 How much does an awning cost?
A number of factors determine the pricing of an awning. We manufacture several different styles of awnings, some fairly basic, some with wind-resistant arms, some motorized, and even some with remote control.
We also manufacture a myriad of sizes for various applications. Your awning will be custom-manufactured to meet your needs.
So invite us out to your home to enable us to give you the information and pricing you require.
What sizes do you carry?
As a national manufacturer, we can make virtually any size you require. Our maximum projection out from the building is 13′, the largest projection on the market. Your awning can be made any width along the building you desire.
What about the warranty?
MacDonald Awning carries a minimum five year warranty. This includes the hardware, fabric, and motorization, if so equipped.
How are the awnings attached to the building?
We can mount your awning onto brick, aluminum siding, under soffits, even in front of the eavestroughing. Unlike other companies, we try to keep your awning off the roof.
Can you tell me about the fabric?
The fabric that we use to manufacture our awnings, unless otherwise specified, is a solution-dyed acrylic material. Unlike cottons or canvas, this acrylic is resistant to rot, mould, and mildew. This tightly woven fabric is 98-99% UV and water-resistant.
There is a five year warranty on the fabric, but you should expect many more years of service from this material.
Can my awning be motorized?
A motor can be used to send your awning out and to retract it back in. A hand-held remote control or an outdoor switch in a weatherproof box may be used. You may also opt for an indoor switch to be installed right beside your patio door. With either switch you select, you will be the envy of your neighbourhood.
Can I add a motor later?
We strongly recommend you have the motor installed when you order your awning, as the labour involved with removing the awning, returning it to our shop, installing the motor, and re-installing the awning at your home will be very costly, not to mention inconvenient to you.
How soon can my order be ready?
Why choose South Coast Awning?
Tillsonburg Location
346 Simcoe St,
Tillsonburg, ON N4G 2S2
Showroom Hours:
Monday to Friday: 8:00 AM – 4:30 PM
(519) 409-5754
Simcoe Location
312 Queensway St. W.
Simcoe, ON N3Y 2N1
Showroom Hours:
Monday to Friday: 8:00 AM – 4:30 PM
(519) 429-3333
Hamilton
and surrounding areas
1-877-785-0407
info@southcoastawning.ca